About me
Transformational Hypnotherapist
Hi, I'm Derek Fraser Crosson. Originally from Scotland, I now live in the West Midlands. I am a fully qualified and registered Clinical Hypnotherapist and Empowerment Architect.
I have a practice in Stratford Upon Avon, but can come to client's homes or via Skype or Zoom video calls.
It feels so rewarding to help clients transform their lives, by giving them the confidence and practical skills to make lasting positive change. I will Extra Your Ordinary!
If you have any aspects of your life that has stopped you from achieving your true potential, please don't hesitate any further- together we really can overcome your problem!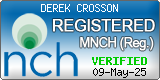 so, what is hypnosis?
Let's dispell some myths about hynosis!
"Zap me, and I'll be cured, right?"
Many people think that hypnosis is about being 'zapped' (whatever that means) and then the issue will be gone. If only it were that simple! Hypnosis, as with anything in life, will only work if you really want it to.
For more information, check out my FAQ section.
"What if I don't wake up?"
It is a myth that when in a state of hypnosis, you are not in control of your body. This is not true! You are not asleep- just in a deep state of relaxation. You are able to hear noises around you, and would be able to react normally if needed, eg. in an emergency.
For more information, check out my FAQ section.
"I don't want to be made to do something against my will"
Again, although I could make you cluck like a chicken, (why would I?) it is impossible to make you do something that you know subconsciously you would not do.
For more information, check out my FAQ section.
"Derek has a true gift and passion for helping people to be the best version of themselves"
Find us here
My practice is in the Tudor Medical Group buildings in Stratford Upon Avon, but can also arrange consultations in locations to suit you, if you prefer. For a free discovery call, click on the link below.
Contact us today